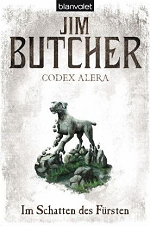 Jeder Fan von "High Fantasy" sollte auf jeden Fall die Reihe beginnen. "Codex Alera" ist eine wahrhaft fantastische Reihe mit sehr viel Charme, Spannung und natürlich Fantasy. Als Fan von "Game of Thrones", gefallen mir vor allem auch die vielen Sichten auf das Geschehen (PoV). Doch nun erst einmal zum zweiten Teil der Reihe ein bisschen etwas:
Allgemeines: Wie auch schon im ersten Band gibt es wieder ein paar Bedrohungen für das gesamte Reich, aber auch für den ersten Fürsten Gaius persönlich. Von jeder Seite aus drohen Gefahren für den obersten Fürsten und Verrat und Misstrauen sind ein ständiger Begleiter. Währenddessen hat sich eine riesige Gestalt aus den Tiefen erhoben, vermehrt sich und bereitet sich auf eine Invasion von ganz Alera vor. Nicht nur Tavi ist in Gefahr, sondern auch Bernhard und Amara sind der Bedrohung gnadenlos ausgestellt … Können die Gestalten bezwungen werden oder steht Alera kurz vor seinem Untergang?
In der Akademie kam bei mir ein richtiges Harry-Potter-Feeling auf, denn aufgrund Tavis fehlender Elementare wird dieser ziemlich oft gehänselt und bezieht eine gewisse Außenseiter-Position. Mit seiner kleinen Clique jedoch erlebt er so manches Abenteuer und gewinnt durch Charme und Sympathie das Herz des Lesers.
Das Buch ist sehr spannend, mit vielen unerwarteten Wendungen und so manchen erschreckenden Offenbarungen. Kapitel für Kapitel zog mich das Buch immer weiter in die fantastische Welt von Alera. Das letzte Viertel liest so wahnsinnig schnell, denn in 2 Handlungssträngen fiebert man parallel mit seinen Lieblingen mit und hofft auf ein gutes Ende …
Charaktere: Wie auch schon im ersten Band kann ich an den Charakteren wieder einmal nichts aussetzen, denn diese sind sehr vielseitig, tiefgründig und besitzen alle eine Hintergrundgeschichte mit gewisser Komplexität. Die vielen PoV (Point Of Views) gefallen mir sehr gut, denn so erlebt man das Geschehen mal aus Tavis Sicht und das andere Mal aus der Sicht Amaras (oder Isanas). Im zweiten Band hat man es auch vermehrt mit einer neuen wolfsähnlichen Rasse, den Canims, zu tun. Doch der Leser lernt auch neue Häuser kennen und begibt sich immer tiefer in die Machenschaften von Alera.
Die Welt von Alera:  Um einen Eindruck zu bekommen wie fantastisch die Welt von Alera wirklich ist, möchte ich euch ein paar Beispiele nennen. So gibt es z.B. die Ritter Aeris, die aufgrund ihrer Elementarkräfte wie Vögel durch die Lüfte fliegen können. Die Canims sind sozusagen Werwolfsmenschen mit Schnauze und Krallen, können jedoch mit den Menschen kommunizieren und sprechen auch dieselbe Sprache. In der Welt von Alera gibt es viele verschiedene Häuser und jedes davon hat seine eigenen Beweggründe und Bündnisse, die sich zum Teil auflösen oder auch neu zusammensetzen. Die Komplexität des Elementar-Systems ist echt enorm, so gibt es für jedes Element eine aktive und passive Wirkung, die je nach Fall positiv oder negativ eingesetzt werden kann. Sehr gut gemacht Herr Butcher!
Fazit: "Codex Alera – Im Schatten des Fürsten" setzt die ausgezeichnete Alera-Reihe weiter fort und glänzt durch ein überzeugendes Elementar-System, gut durchdachte Rassen und Häuser, eine wahnsinnig spannende Story und vor allem sehr sympathische und einzigartige Charaktere.